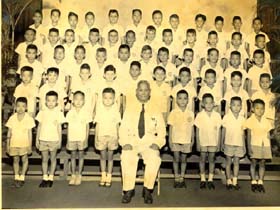 For many of us, this is where it all began. Our Kindergarten or Prep years at De La Salle back in 1953. We came from different sectors of the greater Manila area and spent a good part of our awake-hours together studying, playing and building that bond that would unite us for the rest of our lives.
Some of us joined the group along the way, while some transferred to other schools before 1964. But all have been touched by our stay at De La Salle and carry with us even today that strong bond of friendship and camaraderie that only time can bring about.
Life was simple then. We were a bunch of happy kids who did not know what we did not know. We have come a long way since -- we have had our share of successes and failures, we have accumulated a wealth of "lessons learned" from our life experiences, and we are somewhat different now than we were then. But what has not changed through the years is our friendship and our green-blooded spirit. ANIMO LA SALLE!